Custom Donor Plaque
for Your Recognition Wall [Multiple Designs]
Donor plaques are an excellent way for your organization to acknowledge the generosity of other people, such as sponsors, donors, and benefactors.
Donor recognition walls can have individual donor recognition plaques or incorporate large unique designs to showcase the kindness of generous donors. The traditional donor plaque is brass, or stainless steel plate mounted on small wood panels.
However, thanks to technology and innovative designs, donor recognition signage can be made from a wide array of materials, including glass, acrylic, aluminum, wood, bronze, and more.
At Sunshine Sign, we have expertise in helping organizations like yours to develop aesthetically pleasing donor walls. We work with you to create a donor wall for a lasting tribute to individuals, organizations, and civic groups that support you.
How can you develop a donor recognition project to convey appreciation? Do you want to build meaningful relationships with your benefactors with a donor recognition display? To get more information, please read on as we share helpful advice on designing and creating custom donor plaques.

What is a Donor Recognition Wall?
A donor recognition wall is an area of a building displaying donor nameplates of individuals who have contributed to your cause.  The donor wall could be a few brass, bronze, or stainless steel plaques in the foyer or entrance. Or donor recognition walls could be in a dedicated public area displaying the names of many patrons.
A wall-mounted display is a public way to celebrate the achievements of your valued contributors and major donors. Some may have made significant financial donations towards a particular campaign. However, other individuals or organizations could have donated time, labor, and other valuable resources free of charge to help your organization reach its goals. Donor walls allow you to highlight your sponsors and contributors in a way that is fair and elegant.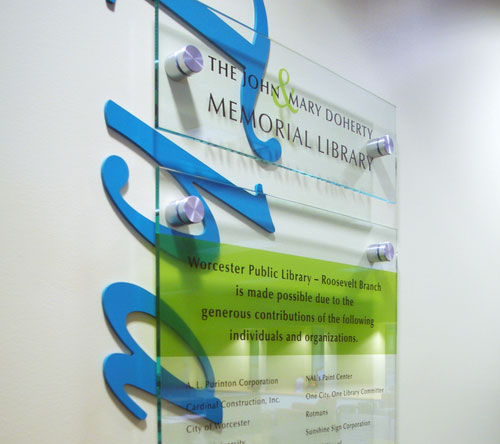 Donor recognition is a common component in the stewardship programs of hospitals, university foundations, places of worship, museums, libraries, or any organization that accepts donations.
There are many unique ways to create a donor wall in the public spaces of a building. A donor recognition display featuring a series of acrylic panels could have names, images, and messages from generous donors. Some organizations decide to create outdoor donor displays. Rather than a wall, exterior donor recognition displays such as cast metal plaques on donor benches in a garden area could also express appreciation.

Why Use Donor Recognition Plaques?
Donor recognition plaques are crucial for any organization that depends on donations, charity, or generosity. Displaying a plaque with a donor's name is a cost effective & generous way to say thank you. Additionally, plaques build relationships and help to ensure that in the future, benefactors continue to contribute. Your donor recognition display can also inspire others to give.
Having a prominent donor recognition wall may also inspire new backers to come forward.
When visitors come to your building and read the names of various patrons and their contributions, they may feel compelled to donate. This is why a donor recognition wall is a vital way to encourage future benefactors to come forward.
Of course, coming up with ways to show donor recognition presents unique challenges. However, permanent installations displaying a wide variety of donor plaques are crucial to attracting new donors and retaining existing ones. You also help build a legacy because plaques and donor signs may last as long as the building.

Types of Donor Recognition Signage for a Recognition Wall
We like to work closely with our clients to design and create elegant donor displays that match their brand, vision, and values. We produce a wide variety of durable, stylish, and customized donor plaques in a layout of your choice and various types of materials.
Here are some examples of the type of donor plaques you could use to showcase your appreciation:
Etched metal — The most popular type of donor plaque has the recipient's name etched on a metal plate. This can be mounted on a glass, wood, or acrylic plaque.
Etched glass — If you are looking for elegance and style, etching the name of a contributor in glass is ideal. Glass can be used as the mounting plaque with a metal nameplate attached.
Cast metal — A classic design for donor plaques is cast metal. This type of donor sign produces a recognition plaque in aluminum or bronze with dark letters. An ideal way to say thank you to a significant patron.
Acrylic panels — Acrylic is an affordable alternative to glass and a popular option for creating a large recognition wall to highlight various contributors. Implementation of design elements, including vinyl graphics, a digital display, and nameplates, can create stunning presentations. You can also use a series of panels to create an eye-catching exhibit.

Design Elements to Include in Donor Recognition Wall
When creating a donor recognition wall, it's vital to ensure the overall aesthetic appeal. The wall should attract visitors to look and browse through the names of your significant donors and benefactors.
Donor plaques on a recognition wall should honor the contributions of others. However, the design can also showcase the honorable causes your organization is involved with. To help you reach those goals, our designers focus on three critical factors for creative development — layout, branding, and impact.
Layout. The most critical element is to have a graphic design that aligns with your organization's goals, as well as the building's interior. The donor plaques or acrylic panels should be well-placed to highlight their contribution.
For example, you could divide sections based on donation amounts, pledge values, or sponsor levels. However, it should be easy to include additional people without impacting the overall design.
Brand. Our designers work closely with organizations to ensure the donor plaques and recognition wall emphasizes their unique brand. This way, featured donors feel connected to your values, cause, and vision. Incorporating your brand with the plaques can help to transform public spaces in your building.
Impact. We use contemporary design elements to create a one-of-a-kind art display to create the greatest visual impact. Interactive features to highlight donor plaques encourage visitors to take their time and engage with your recognition wall.
Get Exclusive offers & a Free Quote on Custom Donor Plaques for Your Recognition Wall
Whatever your goals are, we are ready to help with the design, fabrication, and installation of your custom donor recognition signage.