ADA Signs for Easy ADA Signage Compliance [Save Time & Money!]
We Can Help Keep Your Business ADA Compliant
The Americans with Disabilities Act (ADA) is important for everyone, including employees and customers, and all businesses and organizations are subject to its rules. At Sunshine Sign, we provide ADA-compliant signs that have been produced specially for your company based on your design ideas and choices.
We include your tailored wording to ensure that everyone feels welcome, safe, and secure when visiting or working on your premises. Our top-grade machines and a wide selection of materials and design options make it easy to give your building the look and feel you want while making it more accessible and traversable for everyone.
We at Sunshine Sign are ADA knowledgeable, so let us know how we can help keep your business ADA compliant while staying true to your preferred aesthetic.
Contact us today to request a quote for your ADA compliance sign package & get best experience.
Key Benefits of Ordering ADA Compliance Signs from Us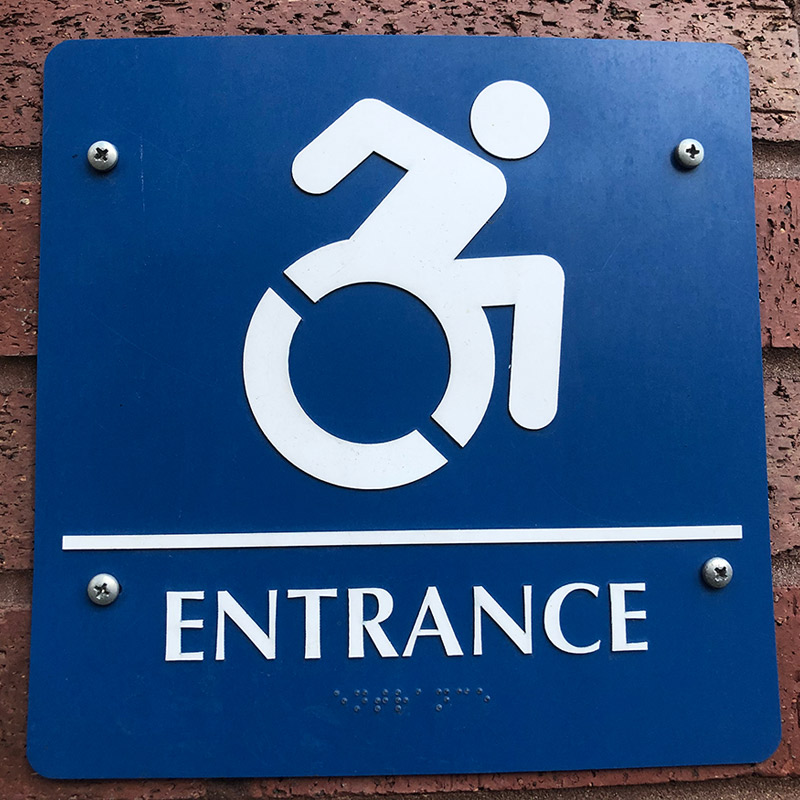 There's complying with ADA sign requirements, and there's complying with ADA sign requirements with style. At Sunshine Sign, we offer a range of custom design options for ADA-compliant signs for small businesses, schools, cultural institutions, and more.
Custom colors and shapes to match your building and landscape
One-on-one consulting for seamless delivery
Stress-free, done-for-you permit acquisition
From-scratch custom design or recreation of existing ADA signs
We Offer the Following ADA Compliant Signs:
Sandblasted, applique, or Photopolymer ADA signs
Custom directories
Curved systems
Restroom signage
In use and available signs
Complete systems including room, door, directional signs, and more
How to Comply with ADA Regulations?
Complying with Americans with Disabilities Act sign requirements presents a unique set of challenges. You must comply with the compliance specifics for the type of structure you're outfitting, how the space is used, entrance and egress markings, sign location, fonts, embossed letters, installation height, and much more. 
Our knowledgeable staff is ready to assist you with meeting these challenges head-on:
Structure-mapping to help you identify areas where ADA compliant sign is required

Selecting the correct markings needed for each location where you must place ADA sign

Choosing signs outfitted with the correct markings 

Determining the right positioning and height for each ADA sign
Complying with ADA sign requirements doesn't have to be a tedious, stressful process. Our designers and installation techs will work closely with you to deliver high-quality, Americans with Disabilities Act compliant signs that meet requirements and exceed your expectations — on time and within budget. 
Custom features

— Shapes, frames, attachments, and full-color graphics

Additional ADA-compliant features

— Slide-in windows, available and in-use sliders, and more

Background materials and colors

— Background and lettering requirements all within ADA guidelines
Get the 411 on ADA Compliant Signs: Your Top Questions Answered
[testimonial_view id="1″]

Our Clients Also Select
We're Your Partner in ADA Compliance Signs
At Sunshine Sign, we design stylish, branded signs that are ADA compliant and serve disabled members of the community and their caretakers. Our design specialists and technicians have the knowledge and expertise to help you identify exactly what ADA-compliant signs you need to meet federal requirements and complement your space.